Authors & Illustrators for Children is an organization of authors and illustrators of children's books who are dedicated to enhancing the world for children.
Authors & Illustrators for Children values a government that cares for children's needs and plans for the needs of future generations.
We believe children have the right to quality education, health care, and a clean environment.
We believe that children should be encouraged to think and dream, and that the freedom to express their ideas and dreams is a human right.
We believe personal responsibility should be taught by example at all levels.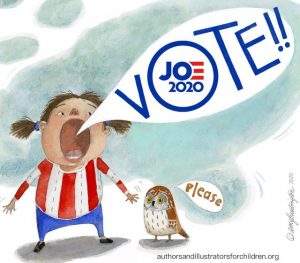 2020
Our focus in 2020 was to ensure Joe Biden was elected President. We partnered with Postcards to Voters; providing them with wonderful artwork from our members, and encouraging our members to participate in PtV campaigns. We also directed our members to other organizations where they could help to ensure election victory. We offered original artwork prizes to members who shared their outreach campaigns, and we continued the campaign after the presidential election to support the democrats in the Georgia Senate special election.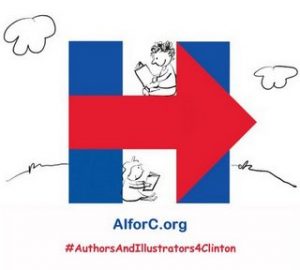 2016
We create children's books because
we care about ALL children.
That's why we're voting for Hillary Clinton.
Our focus in 2016 was on extending our reach through social media. Dozens of prominent authors and illustrators provided quotes supporting Hillary Clinton's campaign. AIC distributed the quotes and memes derived from the quotes on Facebook, Twitter, Instagram, LinkedIn, Pinterest, and Tumblr. Additionally, we purchased advertising on Facebook and produced YouTube videos.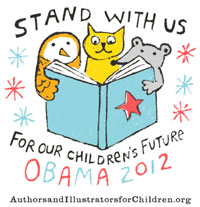 2012
Stand With Us For Our Children's Future
Our 2012 campaign focused on the reelection of Barack Obama in a three-pronged approach: 1) via our 30-second TV spot in swing states (primarily Florida), 2) through an intensive Internet campaign (both paid ads and through social networking), and 3) by encouraging our members to work for local candidates who supported Obama's efforts to address the critical issues of healthcare, education, the environment, and personal rights.

2008
The characters we create inspire our readers. The character he possesses will inspire a nation. Join over 1300 authors and illustrators for children.
Vote for Barack Obama.
Our focus in 2008 was the creation of a television ad which we placed on TV stations in swing states (primarily Ohio). Our 2008 campaign for Barack Obama attracted more than 1,300 authors & illustrators to join.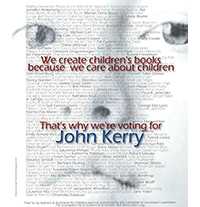 2004
We Create Children's Books Because We Care About Children—That's Why We're Voting For John Kerry.
Created in 2004, AIC supported the John Kerry for President campaign because we believed he was the candidate that best represented our values.  Over 400 Authors & Illustrators lent their names to an advertisement which was placed in national publications targeted at teachers and librarians, as well as newspaper and periodical ads in swing states.
April writes, teaches, plays the fiddle, attempts to train her doofus dog, and hikes. Her main talent is collecting very smart friends who are changing the world.
Rhonda operates storm row studio, where she creates arty goods and highly illustrated novels and zines. She freelances as a copy and content creator, researcher, and creativity coach. Rhonda is also an Etsy seller, Patreon host, and GOTV craftivist, aiming to change the world one Art Act at a time.
Advisory Board Member in Charge of Communications and Social Media, Spokesperson
Lee is a writer and blogger for LGBTQ and Allied kids, teens, and caring adults. A social media expert, he's out to make the world a better place by telling—and amplifying—great stories that inspire people to action.
Bruce divides his time between writing strange books for wonderful children (or perhaps wonderful books for strange children, he's never sure which) and trying to convince friends, family, and random acquaintances that politics may be messy and dirty, but opting out is not an option, since it means abandoning your responsibility to the future of our children.
Janet is a poet whose dream is to have kids all over the country talking with their grandparents and parents about election issues (and even filling out absentee ballots together).
Gabrielle was born under the sign of Libra, and Gabrielle's scales tilt from the serious to the child-like at any given time. Put her in the kitchen and you'll get a delicious meal with whatever ingredients are at hand. In her home studio she loves painting her doodles, but in her quiet time, she'll be meditating for the enlightenment of every sentient being.
Michelle loves stories so much she would eat them for breakfast, lunch, and dinner if she could. As a writer of books for young readers, an award-winning educator, and a literacy advocate, she is a champion for children, families and making our diverse world a safe and nurturing place—one word, one story, and one vote at a time.
Leonard is one of the world's leading writers about children's books and the people who create them. He speaks about his work throughout the world, most recently in China and New Zealand.
Susan is president of Raab Associates, an internationally recognized agency that specializes in marketing books, products and initiatives aimed at improving the lives of young people. Clients have included Scholastic, National Geographic, and many bestselling authors and illustrators. She also reports on publishing, education and human rights issues as a wire service correspondent and is host of New Books Network's Children's podcast channel.